David Arnett, The VP of Marketing for Cherry Creek Mortgage Company, talks about how loan officers can grow their reviews and referrals through their gifts.
David Arnett:
Hi everybody. This is David Arnett, Vice President marketing and communications. And I am here with Michael Athens and he comes to us from Gifts with an Edge, a part of the Cutco organization. And he brought some amazing closing gifts to me a couple of weeks ago and I thought that I would share them with you because they are fantastic. He actually let me take one of the knives home with me and it is now my favorite knife from the kitchen.

So welcome Michael. I just wanted to take a few minutes and go through some of the product offerings that you have and just kind of give our loan officers a little bit more explanations about what, what you do, et cetera. So, in looking at your products, it looks like you have single cutlery, knives as well as the double and it seemed like you could do the single by yourself or you could do the double with you and your agents, something of that nature.

You also have these amazing, cutlery boards, which I love this one because you have a handcrafted message here at the top. But then the special thing is not only the logo is on here, but it's also got your contact information so it's got your name and your phone number as well as your logo. So at any point in time, you know, people forget about you over time, but every time they're cutting something, they're also seeing your name, which is really important. I really liked that, that feature, and we can put anything on here that we wish.

Michael Athens:

Yeah, they're completely customizable, both with client information as well as, as your information, as an LO. Really with the idea being how can we take the same money that we're already going to spend on a gift no matter what, and just put that same money towards something that it's not going to be eaten. It's not going to be drank. It's not going to be spent. It's something that they'll actually use and love, hopefully for the rest of their life. Which is why we focus mostly on the Cutco, because if anyone's unfamiliar they're the Rolex or the Tiffany's of the kitchen, they're super high quality. They've been made in America for 70 years. They're actually guaranteed forever, meaning they get free sharpening and replacement for life and then they're something that's used every day.

And so how can we become essentially a legacy with your clients? Something that's a touchstone in their kitchen on a daily basis that also has your information on it so that when their friend is asking for a referral or when they're ready to make that next move, they just have to go to the kitchen drawer with that essentially dishwasher safety and his card to get your information. And also because we put their info on it, it does actually make them 100% tax deductible as opposed to normal gifts where they can only deduct $25. So it saves people money that on, on things right away.

David Arnett:

Yeah. I liked your idea of also having a customer appreciation event. And basically all your customers would come there and then you would, have a knife sharpening session. Is that where they contact you to come help sharpen them or what, how does that work.

Michael Athens:

Exactly. So it works best if you're pairing it with some sort of client appreciation event that you would be doing anyways, especially if you're maybe doing it with a Realtor or something like that where it's like, okay, we're giving away pumpkin pies for Thanksgiving or something else and while they're in that mood of entertaining and thinking about the holidays and things like that. Okay, let's have, by the way, when you're coming in, if you bring in the Cutco that we gave you or any that you've had from before and we'll sharpen it all up for you for free at the event and just an extra value added a touch, extra reason for them to come in for the event. And it gives you a little bit extra time to have some one on one time with them because their knives are getting sharpened.

David Arnett:

Awesome. I like that. So you brought a few samples here today. One of the really cool ones is this one. Now I would pull this out and I'm thinking, okay, butter knife, it's not, it's totally different, right?

Michael Athens:

Yeah. So this one was the one that was actually featured on The Food Network. So this is called the spatula spreader. So it's Mayo and mustard on your sandwich, but then you can cut the tomato, cut the sandwich too cause it has the edge on it. And then it's really flexible so that you can cut and then serve cakes, pies, lasagna, casseroles, all those types of things. A lot of times this one's used as a referral gift and they'll put "Thanks for Spreading the Word" on it.

David Arnett:

I like that. Yeah, that's some good marketing there. These are really, like I took it home and Matt grabbed it and he's, he knows really fine quality utensils and he was like, that's really well-made cause the strength and everything in the handles. Yeah. This is a really nice piece. And you said that you had some that had theirs for like 40, 50 years.

Michael Athens:
Yeah, I think the longest I've seen... it was actually at a client appreciation event and someone came in and they had added since 1952. And so, having been that long, I wasn't able to sharpen it, but I boxed it up and helped them send it back. And so they were going to all of the ones that either are too dull to be sharpened or anything like that, they'll just get a brand new one and they'll sharpen everything else for them and that's free.

David Arnett:
That's like a gift for life. That's, that's really awesome.

Michael Athens:
Literally, I mean that's kind of the idea is how many other things that you may have given to a client, whether it was a referral gift or something for the holidays or at the end of a transaction, how many of them have the potential to stick around for 20, 30, 50 years and not something that's sitting on the wall or sitting on a shelf. Something that they can really use and love and create value in their life on a daily basis.

David Arnett:
And they'll talk about!

Michael Athens:
Exactly.

David Arnett:
We also have some others here. This is kind of like the gift set where you have two, so this could be either just a really nice gift set for really high end customer or even one of your referral partners. But also you could go in with your referral partner and have your agent have sponsor one and you sponsor the other one.

Michael Athens:
Yeah, so it's a great way to co-brand where you can essentially whenever you're closing what that agent, you have one with their info, one with your info. And so, now you're seeing together as a team for the clients, as you know, we're going to be there at your fingertips for the rest of your real estate lending needs.

David Arnett:
This is gorgeous packaging too. That's very well done. The design and the details and everything. And this one here is..?

Michael Athens:
Just another one. So, and you'll, you'll notice we have different colors on them. So we have our classic handles to fit in. We have the red to stand out. And then we have our white that's kind of in between where it stands out, but it's a little less loud than the red, but it's when it gets pulled out, when the friends and family over, it's, "Hey, where'd you get the red knife?" "Oh, that's my David knife. He's my lender. He's amazing." And so it's that idea of more visibility, something that they can see and something that'll create a conversation in the home about it.

David Arnett:
I wanted the red so I could see it in the dishwater. so I didn't accidentally cut myself. Well these are really great. So you also have, I think thank you notes that go along with this that the loan officer can customize.

Michael Athens:
Yeah. So essentially there's two different ways that we can do the gifts for you. So the traditional way that we've done for the past 10 years or so is most people order about a six month supply gifts. So whether that's 6 gifts or 106, we ship them to them upfront in one box to save them on shipping. And then we actually spread out and bill the loan officer over the next six months, zero interest. So it's easy on the budget. It feels like they're going and grabbing things as they're going anyways, but then they're ready to go for the next six months. Something closes, they grab it, they take it and they drop it off and they're done. The new way that goes along with the custom client engraving is a little bit different, um, where if you're going to the closing table, instead of giving them a gift, it's because everything's so crazy. Then anyways, they want their keys that they want their check.

David Arnett:
This might get lost.

Michael Athens:
This might get lost in it or at least under appreciated. And so it's, "Hey, thank you so much. Here's a thank you note by the way. I have something being custom made for you and it's on its way."

David Arnett:
It's coming,

​Michael Athens:
It's coming for you. And then the image I want you to have is that 30 days later the client gets home and on their doorstep is a box and in the box is a piece of Cutco. And maybe it says like this one here, handcrafted, especially for the Collins family. And then on the back we have your information. But in addition to that, inside the box is a handwritten thank you note and it says,

"Hey, I want to thank you so much for the opportunity to serve you. It was so great to be a part of your home buying process. I don't know if you're familiar with Cutco, but it's guaranteed forever and we want you to know that we will be forever at your fingertips for all your lending needs. P S give me a call to ensure this was engraved and delivered correctly." So we're creating inbound calls for each LO a month after the transaction because they call in and say, "Oh my God, I got it. It's amazing."

And what most of my LOs are doing to really capitalize on that extra touches. "Hey, you got it. Awesome. How does it look? Have you cut yourself yet? I'm just kidding. Hey, by the way, we're really trying to grow our online presence. If I sent you a real quick review form, would you mind filling it out for me? Awesome. I just texted it to you. Did you get it? Hey, by the way, I'm sure over the past 30 days you've been showing your house off to everyone who else mentioned that they were looking to buy or sell their home." And so it's a great way, not only to increase reviews, get better reviews, because we're essentially leveraging that law of reciprocity because they just received this handmade gift, but also creating those conversations about future referrals and things like that.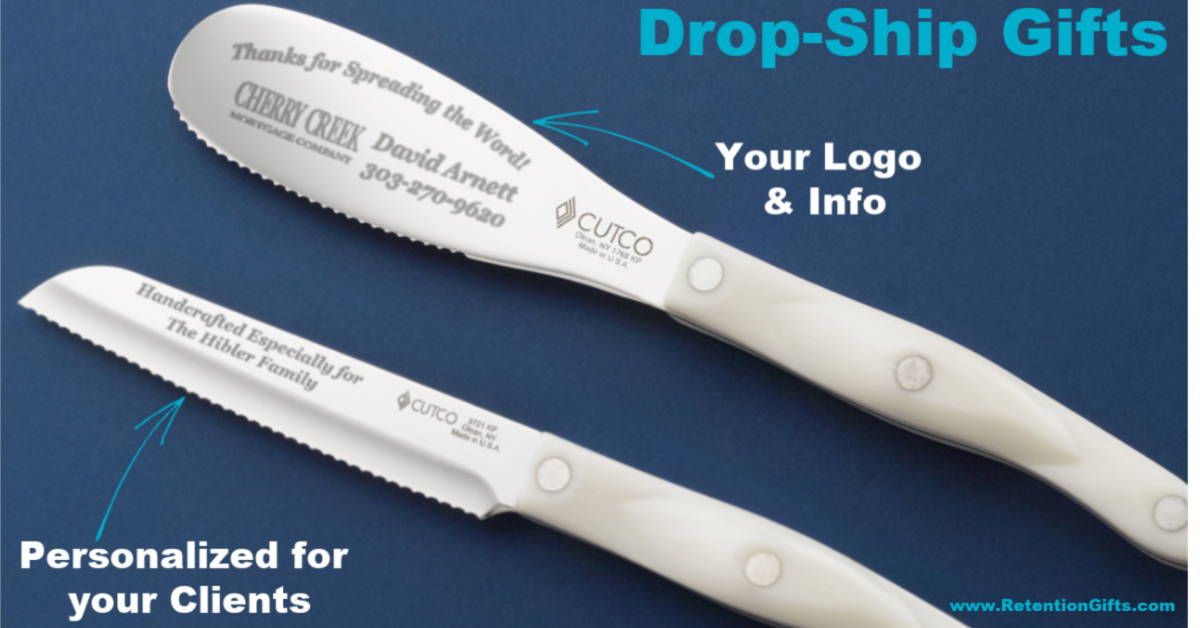 David Arnett:
I like that.

Michael Athens:
Yeah. So it's a little bit more intentional than most of the gifts you find out there.

David Arnett:
Yeah. This is one of my favorite pieces too. So right here you guys can't see it from there, but um, it actually says "Handcrafted Especially for the Collins family." So it's one thing to just put your logo and your information on a piece, but when you brand it personally for that home and that family, this is something they're not going to throw away. They're not going to give it away. They're not going to just put this at Goodwill or anything like that. They're probably not going to do it because of the quality, but that also is a great touch point to just personalize it for them as well. And all included in the price? So let's talk about pricing just really quick. Um, kind of ballpark. What are we talking for? Say one of the knives, the two [piece] set the cutting board, et cetera.

Michael Athens:
Yeah, depending on what you're going for. We try to have most of our products within about a $50 to $250 range. And so we have some things that can go a little bit smaller, but not much because we are focused on luxury where we're not trying to be swag, we're not trying to be, "Okay, let's just give this out willy-nilly." It's who are the people I want to appreciate and really be part of their lives for the next 30 years.

Around $40 is kind of where it starts for most things goes up to about $300. Obviously we can go bigger. If you want to get a full block set. We can do, you know, up to two grand or something like that. Generally that's not an everyday gift. And then yeah, tons of different options both with how you give it, how you're engraving it and things like that. The knives start at about $70 and then we have some other things. So like we have custom engraved bottles like the Yetis that keep liquids cold for 24 hours or hot for 12 that you can brand.

David Arnett:
And what you mean by custom engraved is it's not just branded with a logo, like it's literally you go the extra mile, the extra step to put their name on there and things like that. So it's a lot more personalized piece.

Michael Athens:
Yeah. And it's completely up to you. If you just want your information on there, we can do that and it's still going to be more effective than a regular gift. But if you do want to go that extra mile and have something that's personalized to them, it just, it becomes an heirloom. It becomes something that's, this is our family knife. And so it just, yeah, it makes a really big impact that way. Cool. Well, yeah,

David Arnett:
You know, we're also, we're talking about giving these to your, um, customers as closing gifts, but these also make good agent gifts at Christmas time or just as an appreciation or something of that nature really makes a big impact with that agent that's been referring you business, et cetera. So, so we've got Michael's contact information at the bottom with instructions on how you can find him and how you can order, et cetera. I hope this has been helpful to you. If you have any questions, please feel free to reach out to Michael and can answer any question you have and hope you have a good weekend. Okay. Bye now.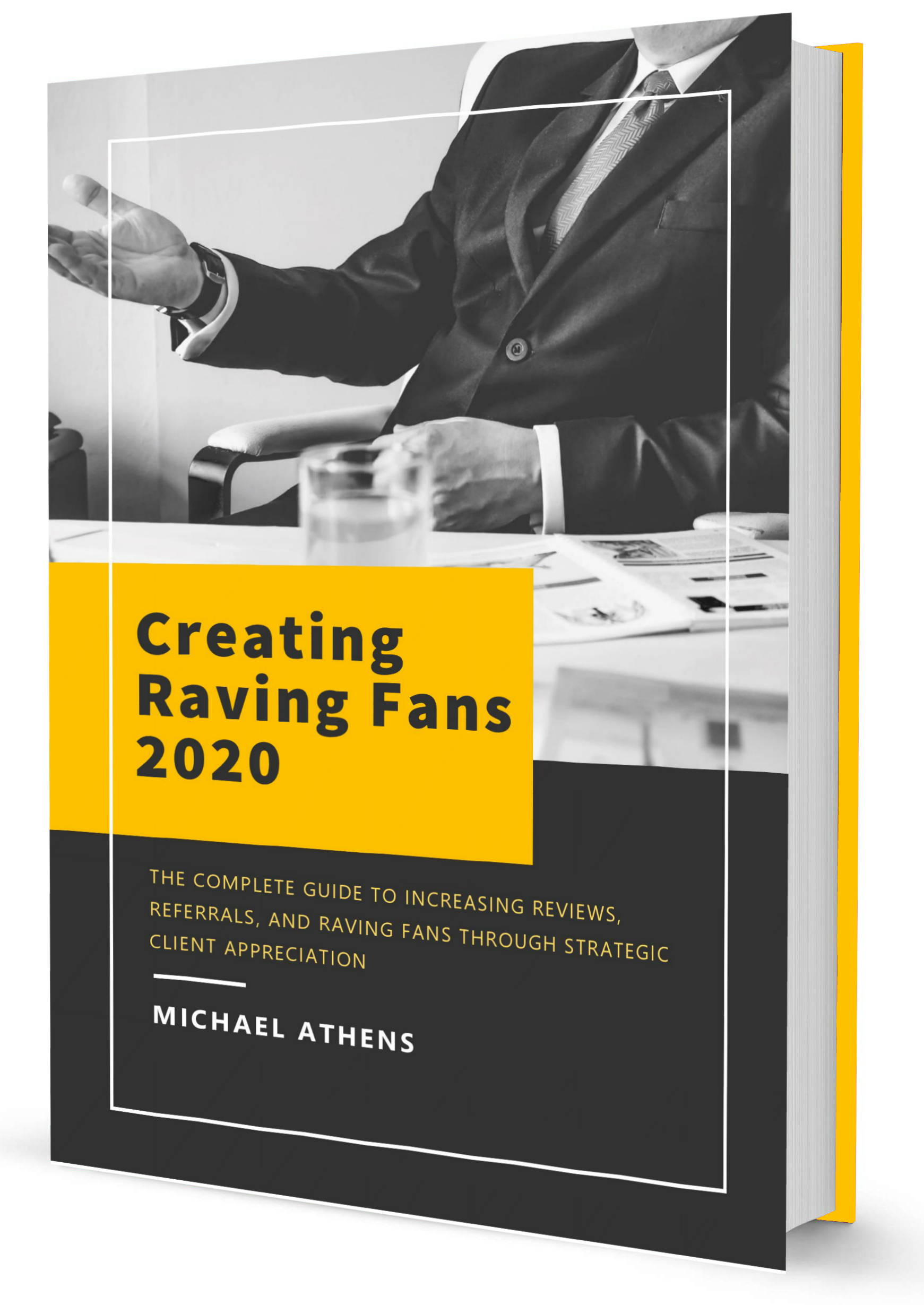 Download our Creating Raving Fans Guide