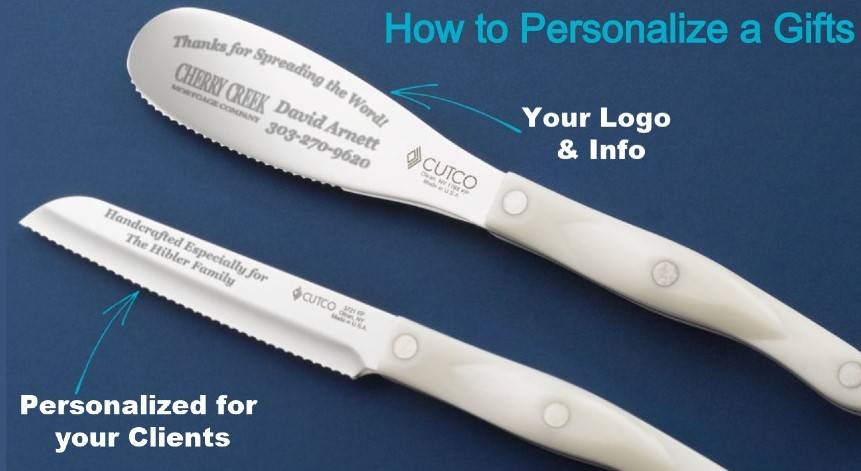 How to Personalize a Gifts
Most of our clients are familiar with our​ "Gifts on Hand" system of ordering that Cutco Closing Gifts has been using for the past dozen years or so to help Realtors, Lenders, and Business owners brand themselves with their clients while appreciating them through a gift. '
How this works is that we'll engrave a supply of gifts with just the business' information on it (logo, name, number, tagline, website, etc.), shipped upfront so to save money on shipping, but billed over the next 6 or 12 months at 0% interest. ​
That way they can have a small stockpile of gifts on hand so that when a deal closes, a job ends, they receive a referral, or they need something for a charity auction donation, they can just grab one, give one, the client loves it, and they're done.
For a long time we had been trying to develop a perfect system that allowed us to personalize gifts to each client individually without causing any headaches to our clients, our engravers, and our fulfillment chain and in building out that system we unknowingly ​found a way to help our clients get far more reviews and referrals!
Why Personalize the gifts?
While it's not necessary to personalize the gifts, we've found a few key benefits that justify the small cost to go that extra mile and customize a gift with your client's name.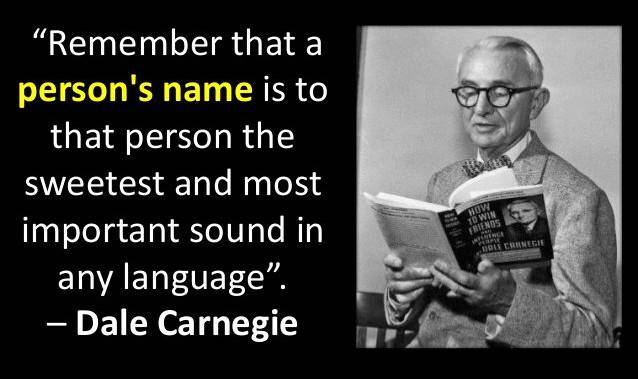 This may be obvious, but people simply enjoy the gifts more. While anyone who owns Cutco will tell you that they're the best kitchen tools on the planet, usually they grew to love them slowly.Many people have bought a sharp knife before only to have it become uselessly dull within a matter of months. With Cutco, if they haven't heard about it before, they grow more and more love for their gift over time as it consistently delivers on its promise of being the sharpest knife in the kitchen.​This compounds if they have an issue like their knife breaking when they receive a brand new one from Cutco as part of their FOREVER GUARANTEE!

When a client receives a Cutco Knife and it's engraved with "Handcrafted Especially for the Jones Family" it makes a huge impact immediately! They know you didn't just grab something off a shelf. They know you took the time to make something special for them and since it's Cutco, it means it can literally become an heirloom item for the family.

The delivery gives you an opportunity to grow your business.
Since most of our clients wouldn't want to risk engraving a gift for a client before the deal closes in case something falls through, most of the time we drop-ship the gifts directly to the client after closing.
Wanting this to be a special moment for the clients, we decided to include a handwritten thank you card (on the business' behalf) in each gift which led us to an awesome discovery. If we simply added a post script to the note, asking for the client to call in and confirm they received it, we could generate inbound calls for our business partners!
So now your client calls you (30 days after closing when its delivered) at this peak state of gratitude since they received your handcrafted gift. at this point its a very simple ask for them to write an online review or think back to the people they've shown their home to that mentioned they were looking to make a move to give you referrals.

So how do we actually personalize the gifts?
For single item gifts, we engrave the client's name on the front, and your info on the back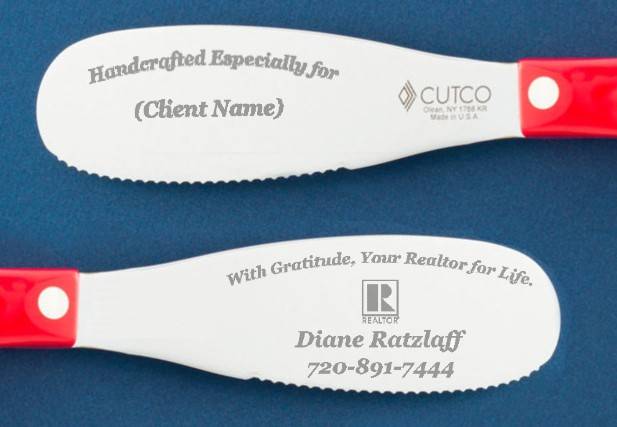 For two piece gifts, we engrave your info on one and the clients name on the other, both on the front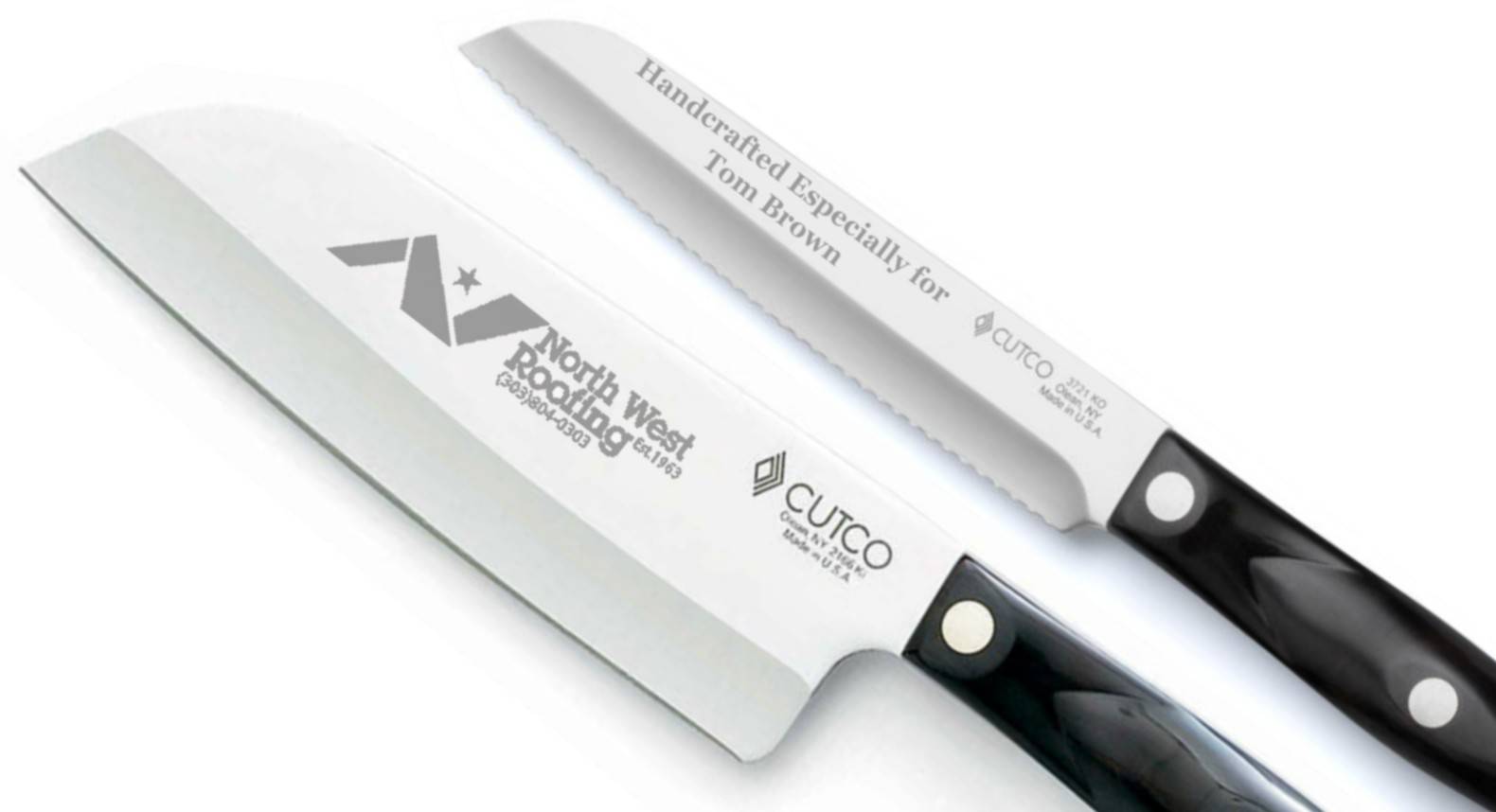 How do you tell us what to engrave
and where to ship it?
We will make you a simple custom online form where you can give us all the information we need to have your gift personalized and shipped to arrive on the correct date. Here:s what it looks like: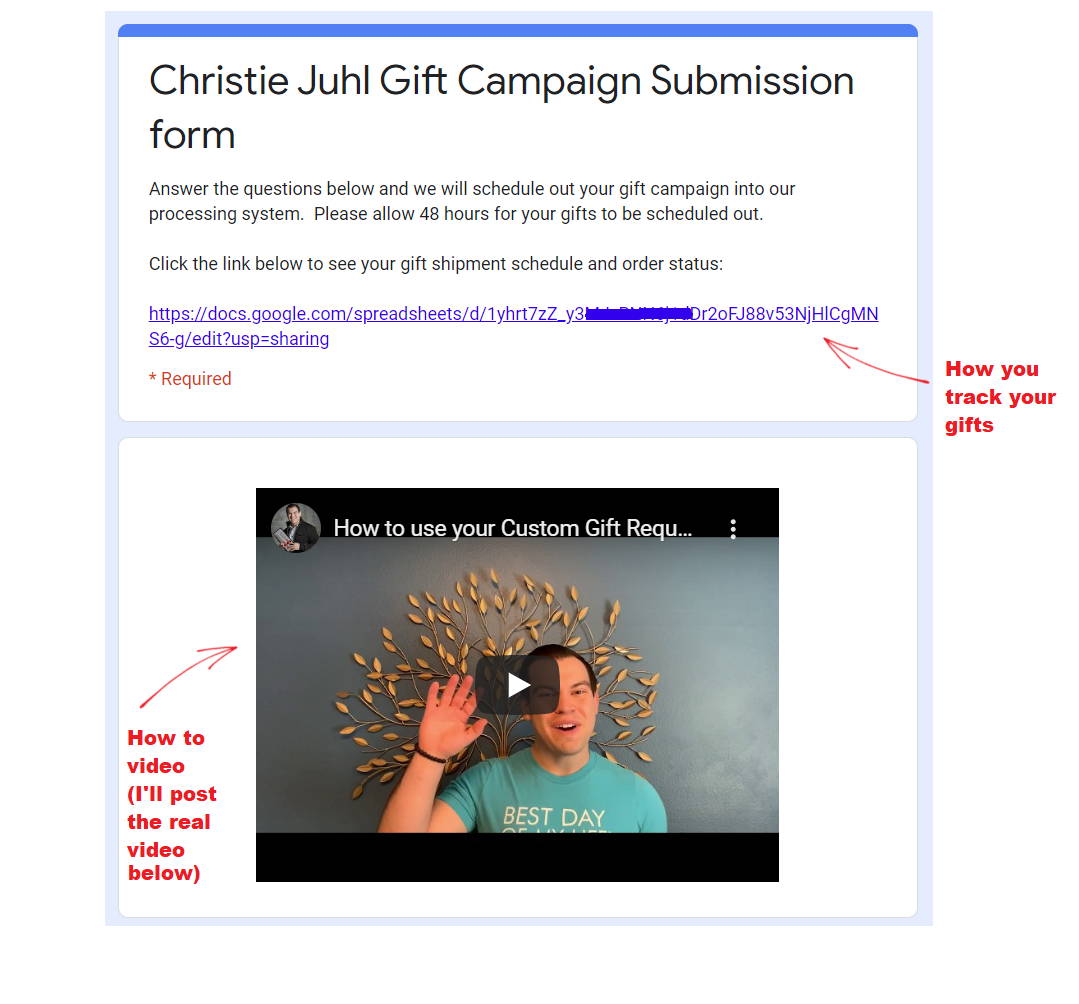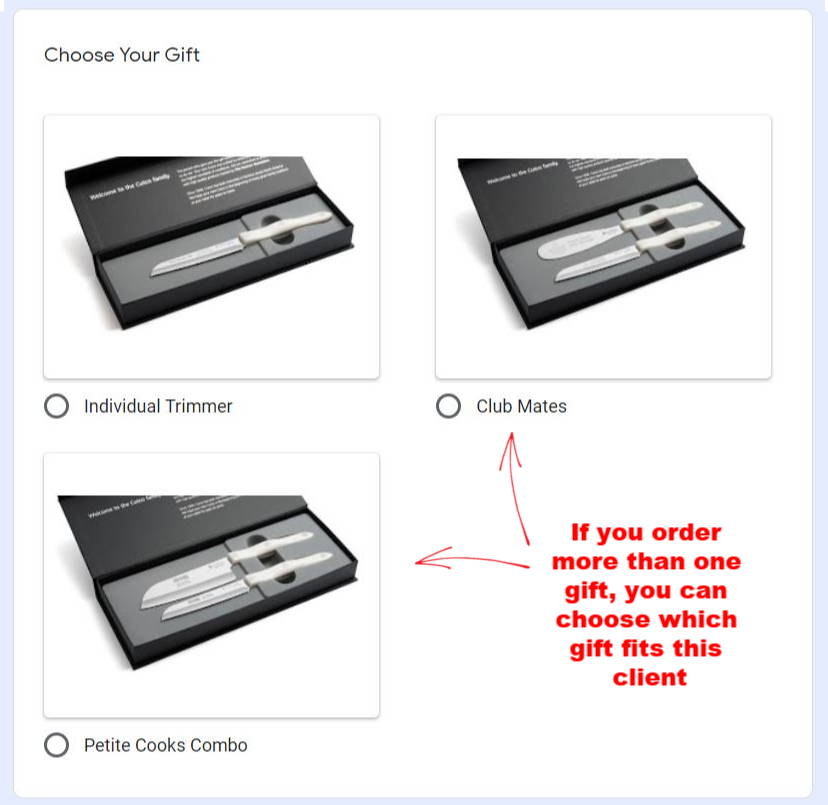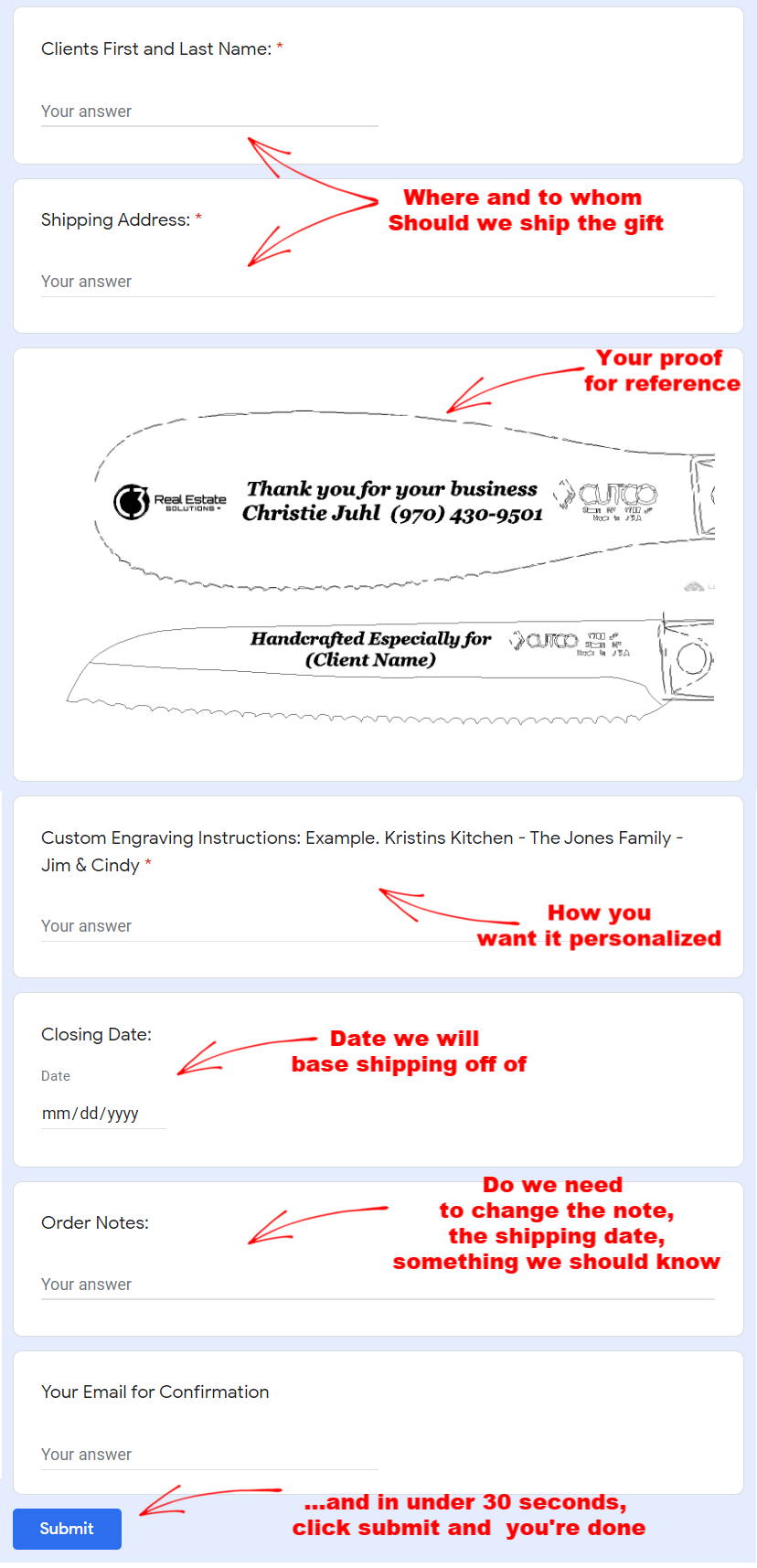 The other benefit of customizing each knife and shipping it post closing, is that it opened the opportunity to send more than one gift to each client and/or to customize each gift not only with the clients information but also with your referral partners information!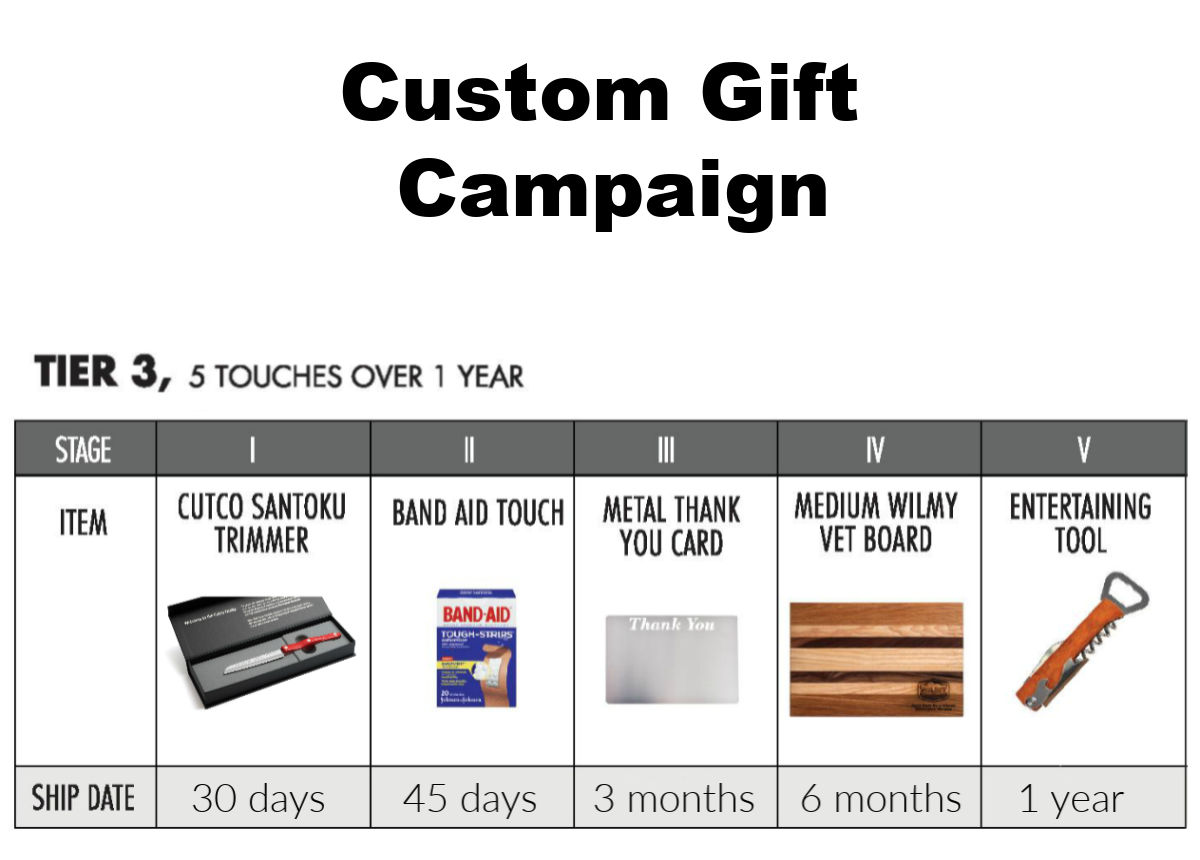 With the same single click of your submission form, we will schedule all of the gifts to arrive at the correct time so you don't have to think about it!​Fully customizable in both the number of gifts a client receives and when they arrive.

The same way you add your client's name to the gift, we can add your lender's or Realtor's name and number to the gift allowing you to co-brand each of you and save money on each! This also means that you can have a different partner on each gift

Give me a call, text, or email
Michael Athens
303-909-1405 ​
Michael@GiftswithanEDGE.com